Intracytoplasmic Sperm Injection
In 1992, a new technique known as ICSI was introduced by a Belgian group which has revolutionized the treatment of male infertility.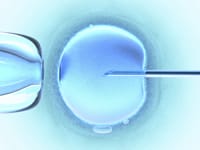 The ICSI procedure is a remarkable  breakthrough because it requires only a single sperm for fertilization to occur. Fertilization is accomplished by the direct insertion of a single sperm into the cytoplasm of the  egg.
Without fertilization of the egg by the sperm, the single resulting cell (weighing about one twenty millionth of an ounce) which would ultimately grow into a human being could  not exist. For many infertile couples, the inability to achieve fertilization is the principal problem.
The success of ICSI is very dependent on the skill of the embryologist and the number of procedures performed. There is a large learning curve involved with mastering this technique.
Schedule Your Appointment Now
Tuesday
8:30 AM - 5:00 PM
Wednesday
8:30 AM - 5:00 PM
Thursday
8:30 AM - 5:00 PM
Saturday
Appointments Only