Share your stories during Infertility Awareness Week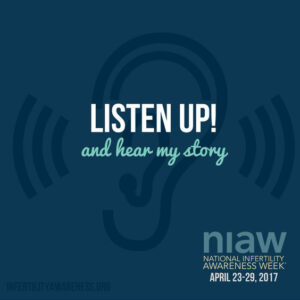 Infertility impacts an estimated 1 in 8 couples. Through Infertility Awareness Week, April 23-29, 2017, we hope our patients will feel less alone when they realize that millions of individuals and couples face similar situations. During this special recognition week, Dr. Mark Rispler and the team at our Manhattan Beach fertility center want to remind our patients that we stand ready to partner with them in achieving their ultimate goal: a beautiful baby.
Making the most of Infertility Awareness Week: Tips from our Manhattan Beach fertility center expert
Often, patients and their partners feel isolated by their infertility. Dr. Rispler believes that Infertility Awareness Week offers patients the opportunity to share their stories and find a connection with other people who may be experiencing similar situations. Consider the following suggestions from our Manhattan Beach fertility team.
Get involved Although your infertility may have caused you to focus in-ward, joining a local fertility organization like RESOLVE may provide you with a community of support. Hearing the stories of other people can help you feel less isolated, and your story may give someone else a bit of much-needed inspiration.
Find your voice If you feel comfortable, use Infertility Awareness Week to share details of your personal journey. Start with close friends and family, but you might also consider a broader audience by penning a blog or offering insight at a support group meeting.
Celebrate the good Try to remind yourself of the positive facets of your life that don't involve trying to get pregnant. Remembering your health, career, romantic partnership and loved ones can shift your focus to the things you feel grateful for already.
Focus on your strength Even though you have not had success yet, Dr. Rispler and our team will continue to explore options with you so that you can achieve a healthy pregnancy. Embrace your commitment to the process and your determination to succeed.
The struggle to conceive impacts millions of people and Infertility Awareness Week helps shed light on this important issue. Dr. Rispler and our Manhattan Beach fertility center team offer guidance and resources to our patients as they travel the sometimes challenging road to parenthood. Contact us for more information or to schedule an appointment.