Infertility Awareness Week: Shining a light on a common struggle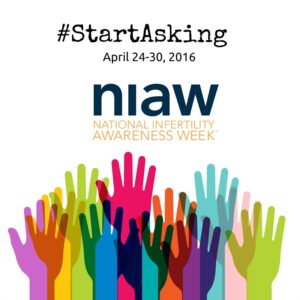 This year, National Infertility Awareness Week (NIAW) will take place April 24-30. This designated week began as a grassroots advocacy project for those who struggle with infertility, and at this point, it's become a national event that typically takes place prior to Mother's Day. Our Manhattan Beach fertility team and Dr. Mark Rispler join others across the country in sharing information, fighting stigma and shining a light on myths and misunderstandings surrounding reproductive issues.
Infertility awareness begins with open dialogue
Our Manhattan Beach fertility clinic offers hope and guidance to the 1 out of every 8 people who encounter conception challenges. With greater infertility awareness, those who struggle with this common frustration may recognize that they aren't alone, and they may feel encouraged to ask questions (#StartAsking), reach out to healthcare providers and share their stories with family and friends. Knowledge offers the first line of defense against any healthcare condition, including infertility.
A few facts that raise infertility awareness
Here are a few infertility facts you may not know.
Infertility issues are evenly divided between men and women; 50% of the time, the problem lays on her side and just as often, it lays with him.
Working with a reproductive endocrinologist can bring excellent results; about 80% of couples who choose this option eventually conceive, and only 3% of these outcomes involve in vitro fertilization, IVF.
Male fertility, not just female fertility, declines with age.
Diet, health and exercise — including adequate intake of folic acid — can support fertility for both women and men.
Legal issues often influence reproductive issues; only 15 out of 50 states in the US require insurance companies to cover infertility treatments. Writing a letter to your lawmakers may generate more impact than you realize.
Our Manhattan fertility clinic proposes that we take action
Our Manhattan Beach fertility clinic team works hard to support would-be parents in search of reproductive guidance. This week, these dedicated fertility specialists will work harder than ever to spread the message: Conception problems are not shameful, they're not rare, and with careful attention and treatment, many of the causes of infertility can eventually be overcome.
Please contact us if you struggle with infertility. Innovative Fertility, serving the beach communities of Manhattan Beach, El Segundo, Redondo Beach, Torrance and Hermosa Beach has been helping resolve fertility for more than a decade and delivers world-class care close to home.