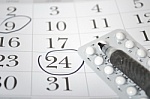 For years you've lived with the expectation that missing a period would signal pregnancy, and when you are ready, the body will respond. Dr. Mark Rispler with Innovative Fertility Center understands the frustration that women feel when the reproductive system fails them, and plans to get pregnant get waylaid by infertility.
"Female infertility can feel like a betrayal of the worst kind," says Dr. Rispler. "This is a woman's own body that is failing them, month after devastating month. As a fertility specialist, I help my patients find a way through the crisis, and celebrate alongside these families as they overcome infertility."
Common Causes of Female Infertility
Dr. Rispler will quickly uncover the cause of infertility, which in one third of all cases is attributed to female factors, including:
• Endometriosis
• Age-related Infertility
• Ovulation Disorders
• Tubal Damage
• Polycystic Ovarian Syndrome (PCOS)
• Recurrent Miscarriage
• Uterine Polyps or Fibroids
• Unexplained Infertility
You may suspect a problem, or know that PCOS or other existing factors will make it hard to get pregnant. Contact the Manhattan Beach fertility center renowned for its scientific yet holistic approach. Dr. Rispler specializes in female infertility and male infertility and is board certified as a reproductive endocrinologist.