Free Egg Freezing Seminar
Egg Freezing Protects Your Future Family.
Egg freezing to preserve fertility suspends time. It outsmarts the biological clock. We can't change the fact that fertility and egg quality peak in a woman's 20s. However, breakthroughs in cryopreservation empower a new generation with the freedom to freeze their eggs, and to delay child bearing until the time is right.
Innovative Fertility Center invites you to learn more about egg freezing.
What's involved in a 'super ovulation' treatment cycle for egg freezing?
Is there an ideal age to freeze?
What are the cost benefits of freezing now versus waiting to pursue fertility treatment later?
Reserve a seat at a no-cost egg freezing seminar, directed by Dr. Mark J. Rispler, M.D., board certified in both Reproductive Endocrinology and Obstetrics and Gynecology. RSVP to Jacqueline at 310.648.BABY (2229)
Innovative Fertility Center
3500 N. Sepulveda Blvd. Ste. 130
Manhattan Beach, CA 90266
310.648.BABY (2229)
Dr. Mark J. Rispler, M.D., F.A.C.O.G.
Board certified in Reproductive Endocrinology and Infertility
Board certified in Obstetrics and Gynecology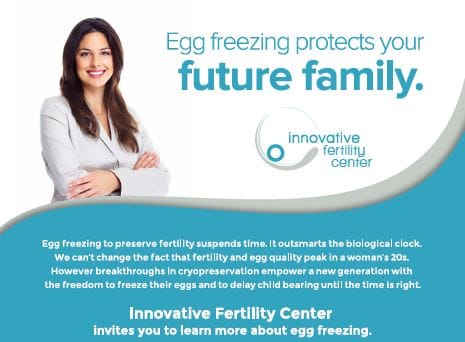 Check back for our next seminar!
Schedule Your Appointment Now
Tuesday
8:30 AM - 5:00 PM
Wednesday
8:30 AM - 5:00 PM
Thursday
8:30 AM - 5:00 PM
Saturday
Appointments Only