Acupuncture and Fertility
Good-bye Stress, Hello Pregnancy. How Acupuncture and Fertility Complement Each Other.
Let's face it, when you want to be a parent, you look for every bit of advice and extra boost you can get. So, what does acupuncture have to do with your fertility? It's part of a Traditional Chinese Medicine approach that believes in order to strengthen one's fertility, you must strengthen the entire system.
Dr. Mark Rispler and Dr. Joshua J. Berger suggest that you think of it as tilling the soil before you plant a seed. The goal is not simply to aid in conception, but to maintain a healthy pregnancy to term. Considering that a combination of acupuncture and Western fertility treatments has shown to increase conception rates by 26 percent, it could be efficacious in helping you conceive.
What is acupuncture?
It's the process of inserting very thin, sterile needles into the skin on 14 specific points of the body that are pathways (AKA meridians) in the exterior and exterior of the body. Those who use this specific practice believe these meridians are conductors of chi, or in simple terms, energy, between our inside and outside. When the flow is disrupted, it is believed to cause health issues. Acupuncture is used to help support the flow and unblock the meridians.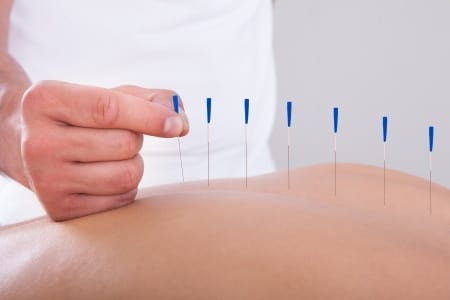 Why would it help with fertility?
Ever notice how when you're consumed with stress you physically feel the result of your anxiety? There is a reason for that: When we feel stress, a hormone called cortisol is released in our brains that alters the neurochemical balance, changing the hormone levels and disturbing the pituitary balance which is essential in the reproductive cycle.
One of the ways acupuncture aids in fertility treatment is specifically aimed at reducing stress, which is often a factor when undergoing fertility treatment. There is such a delicate balance between the pituitary, hypothalamus and reproductive glands, that any interruption may prevent ovulation entirely. And it's difficult to get pregnant without ovulation, isn't it?
So, if you're interested in exploring whether acupuncture could be a supplemental aid in your fertility process, contact us at Innovative Fertility Center and we can help you navigate your options.
We have partnered with the top practicing fertility acupuncturists in the area: Deannie Janowitz & Tracey Bailey. Deannie Janowitz L.Ac. is a California Board certified Licensed Acupuncturist and an NCCAOM Diplomate in Oriental Medicine and Chinese Herbology. Deannie's passion and belief in the time-honored, profound natural power of Oriental medicine are evident in every treatment she gives. Her warmth, enthusiasm and compassionate manner combine to create an environment of empowerment and confidence to support patients in all aspects of their healing process.
Denise fully appreciates the intricate, holistic balance between body and mind and that every patient has unique requirements. She uses this knowledge to establish a fully customized healing plan for each individual and to develop and partnership of mutual respect and trust with her patients.
Schedule Your Appointment Now
Tuesday
8:30 AM - 5:00 PM
Wednesday
8:30 AM - 5:00 PM
Thursday
8:30 AM - 5:00 PM
Saturday
Appointments Only